United by a common vision of mainstreaming animal interests, we promote an equitable world with just transitions, employing overarching systems thinking approaches to arrive at positive outcomes for animals, people and our planet.

Dr. Uma Malhotra received her M.D. from the All India Institute of Medical Sciences (AIIMS) in New Delhi. She subsequently trained in Internal Medicine, Immunology, and Infectious Disease in the US. She is a Clinical Professor of Medicine in Seattle, Washington, and an expert on plant based nutrition. She has worked closely with the Society for Vegetarians of Washington, participating in educational programs for both the public and health care providers on the benefits of plant based nutrition. She is a regular contributor to articles on plant based nutrition for Federation of Indian Animal Protection Organisations as well as the local media in India. She is passionate about the rights of animals and over the years has worked closely with animal welfare organizations in both the US and India.

Jessika Ava is the CEO and Founder of Thrive Philanthropy, a global grantmaking firm that amplifies food systems and accelerates alternatives to industrial animal agriculture. Her notable experience includes NGO management, grant-making, statistical program evaluations, and Asian street animal welfare. She has been involved in India's vegan advocacy and street animal welfare movements since 2010. She holds an MS in Biostatistics and an MPA in Non-Profit Management and sits as Board Chair of Out to Pasture Animal Sanctuary. She is an ethical vegan.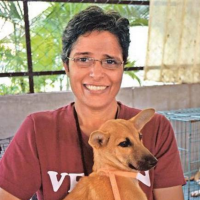 Mini Vasudevan is an engineer by profession who strongly believes that making a difference is as important as making a living. An ardent animal lover, she had a special connection to animals, right from a very young age. She was involved in animal welfare activities for several years both in India and abroad before co-founding Humane Animal Society (HAS) at Coimbatore in 2006. She has been the Managing Trustee of the organization since inception and takes immense pride in the various activities HAS undertakes and the difference the organization has been able to make in the lives of countless animals. Mini is the recipient of the Nari Shakti Puraskar which is the highest award in India for women.

Varda Mehrotra is an animal advocate and movement builder, exploring intersectional solutions. Most recently, she founded Samayu to undertake intersectional work and apply a systems approach for issues surrounding justice and animals in food systems. Under her decade-long leadership, FIAPO – India's federation for animal organisations – was recognized as one of the most effective animal charities. She has spearheaded several large-scale undercover investigations, campaigns for farmed animals, companion animals and wild animals and was the architect of India's largest plant-based advocacy network, which has created many animal advocate leaders in the country. Prior to that, she spent several years organising within the grassroot movement in Scotland.

Meghana Rajanahally is the Finance and Operations Manager for Thrive Philanthropy. She has previously worked as a marine biologist, animal rights advocate, social justice community organiser, administrator and event manager with diverse international and local grassroots experience. Her extensive travel and experiences working in and with peers from numerous countries and cultures give Meghana a huge advantage in dealing with people around the world and global issues, with a lens of decolonisation, intersectionality and transformative justice. She holds an MSc in Marine Biology, a Graduate Diploma in Marine Biology and a BSc in Biological Sciences focusing on Microbiology.
To learn more about us, our team, and to partner, support and donate.